UpSMART Accelerator Programme
In 2019 the digital Experimental Cancer Medicine Team within the CRUK Manchester Institute Cancer Biomarker Centre, along with our EU colleagues, including those from Fondazione IRCCS Istituto Nazionale Tumori, Milan and Vall d'Hebron, Barcelona were awarded a CRUK Accelerator Award to enable SMART Experimental Cancer Medicine Trials. The ambition of this programme, entitled "UpSMART", is to 'digitalise up' experimental cancer medicine centres across the UK, Italy & Spain, providing clinical teams with digital tools for real-time access to a wealth of patient data allowing faster decision making. The UpSMART consortium consists of 23 participating centres across Experimental Cancer Medicine Centres (ECMCs) in the UK and Early Drug Development Units (EDDUs) in Spain and Italy. 
The Accelerator Award funding means that the consortium can use digital healthcare products to enable data acquisition and data interpretation and create digitally enabled Phase 1 centres able to conduct technology clinical trials. The UpSMART Accelerator programme will test existing digital tools within 23 Phase 1 Units that have joined this aspiring, timely programme. UpSMART will be developing and providing all clinical sites with free to use access to new digital healthcare technology approaches and improvements in trials that enable patients access to tomorrow's medicines today. Our goal is for these and other digital healthcare products to be shared and implemented more widely together with training in digital healthcare product approaches.
For further details on the UpSMART Accelerator Award and our ambition to drive digital innovation in early phase cancer clinical trials, please click on the link to our publication in Digital Medicine here.
Map representing participating and collaborating centres across Europe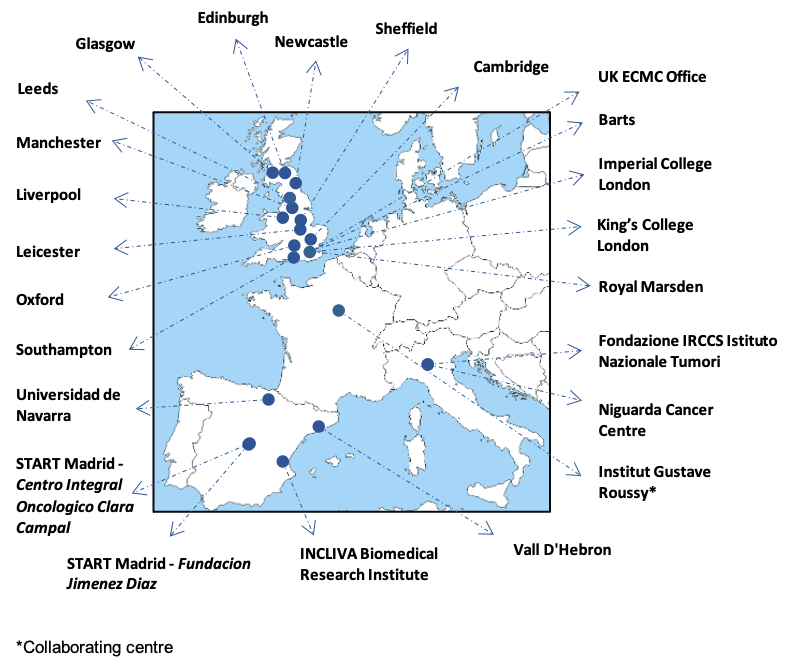 Please note: The consortium welcomes collaborating centres, who although not funded directly via the Accelerator Award can collaborate, share, and receive information in the same way as the participating centres.
The consortium is funded by an "Accelerator Award" through a partnership between Cancer Research UK, Associazione Italiana per la Ricerca Contro il Concro (AIRC) Italy, and Fundación Científica de la Asociación Española Contra el Cáncer (FC AECC), Spain.